Growing older doesn't mean that one cannot engage in physical activity. On the contrary, the older we get, the more important it is to stay active for your overall health and well-being.
To stay healthy, older adults should aim for at least 150 minutes of moderate-intensity aerobic exercise per week or 75 minutes of vigorous-intensity exercise. 
This blog post will look at the recommended guidelines for physical activity for older adults, the benefits of physical activity for seniors, and the types of exercises suitable for them.
Recommended Guidelines for Physical Activity for Older Adults
The Physical Activity Guidelines for Americans recommends that older adults do at least 150 minutes (or 2.5 hours) of moderate-intensity aerobic exercise per week.
It's recommended that older adults be active at least 3 days per week, but anything is better than nothing at all. The guidelines also suggest that older adults should engage in activities that improve strength, balance, and flexibility at least twice a week.
Benefits of Physical Activity for Older Adults 
Regular physical activity is beneficial to older adults in several ways.
Engaging in physical activity can help improve strength, endurance, and balance,

reducing the risk of falls

and other accidents.

Exercise has also been shown to

improve mental health

and cognitive function, and can help to reduce the risk of developing chronic illnesses such as diabetes, heart disease, and stroke.

Additionally, regular exercise can lead to increased social interaction, which can help older adults maintain a

sense of community

and belonging.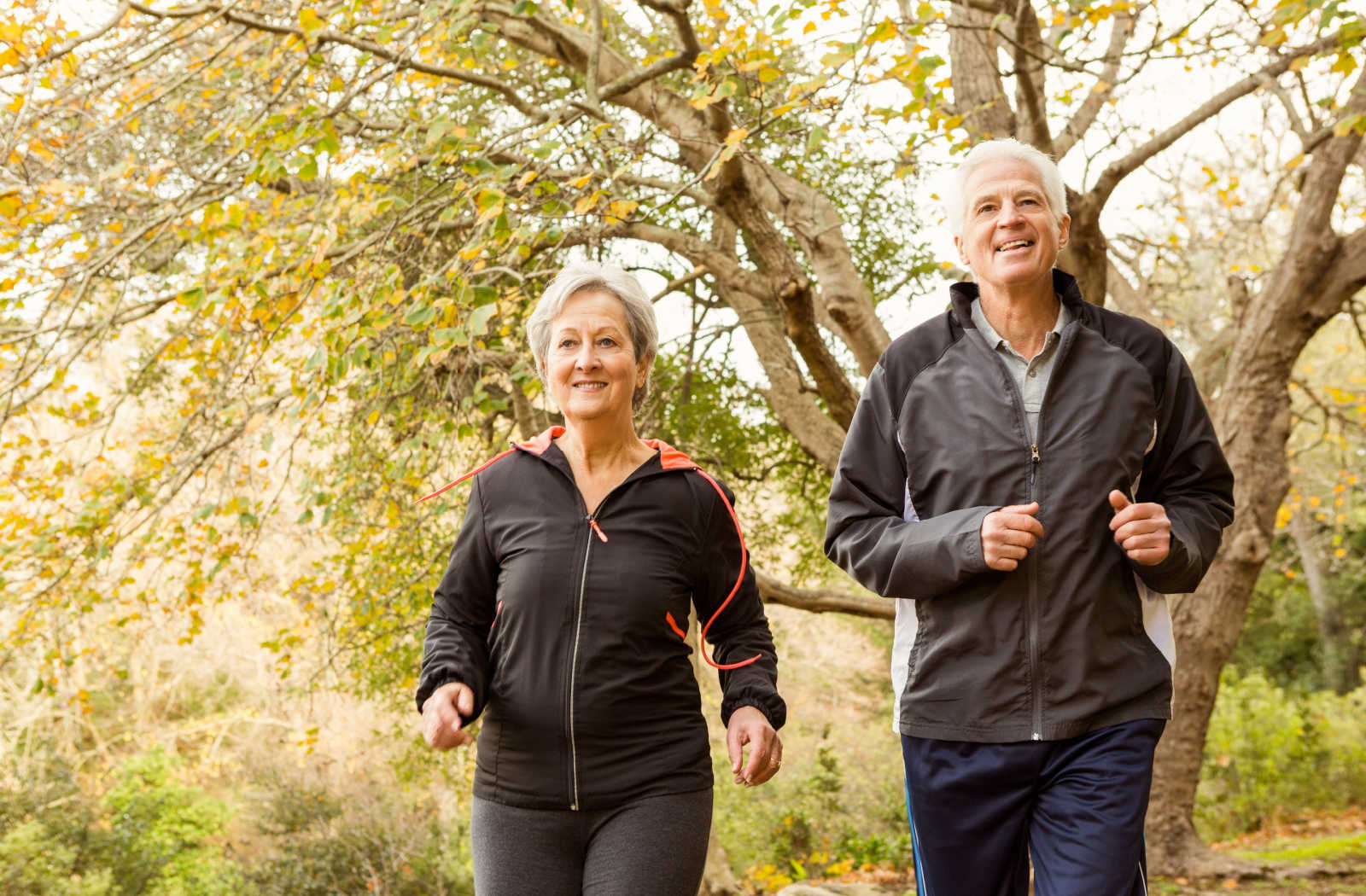 Types of Exercises for Seniors
As we age, our bodies gradually lose muscle mass and bone density, making it more difficult to stay fit and active. Regular exercise is essential for seniors to maintain their health and vitality, but choosing the right types of exercise is important.
Let's look at the 3 main categories of physical activity that seniors can do: moderate-intensity, high-intensity, and balance exercises.
Moderate-Intensity Physical Activities for Seniors
For older adults who are just starting with exercising, moderate-intensity activities are a good place to begin.
Examples of moderate-intensity activities include:
Brisk walking

Swimming

Cycling

Tai chi
Moderate-intensity physical activities still require some effort, but they are gentle enough to carry out a conversation while performing them comfortably.
These activities are particularly beneficial for those who have not been active or have pre-existing conditions such as joint pains.
High-Intensity Exercises for Seniors
Seniors who are already active and want to increase their fitness levels can try high-intensity workouts.
High-intensity interval training (HIIT) is a good example of a high-intensity activity that can improve cardiovascular health and boost endurance. However, high-intensity activities require more effort and may not be suitable for everyone, especially those with joint problems or underlying health conditions.
Seniors should consult with a healthcare professional before engaging in high-intensity exercises.
Balance Exercises for Seniors 
Balance exercises are important for older adults, as they help to reduce the risk of falls and accidents.
Examples of balance exercises for seniors include:
Standing on one foot

Walking heel to toe

Standing on a wobble board
Practicing good posture and engaging the core muscles during exercise also helps to improve balance. It's best to incorporate balance exercises 2 to 3 times per week to improve balance.
Experience the Best of Aging with La Vida Llena
Physical activity is essential to maintain one's health and well-being, regardless of age. No matter your age or fitness level, it's never too late to start an exercise program that can make a real difference in how you feel.
La Vida Llena provides its community members with opportunities for physical activity and access to diverse activities and offers incredible facilities such as a pool and a fitness center.
If you're looking for a place where living life at any age is celebrated, our La Vida Llena life plan community is the perfect fit for you. Schedule a tour of La Vida Llena today and experience the glory of growing older with dignity!